Monique Fountain Hanna is Chief Medical Officer and Senior Advisor for the US Department of Health and Human Services in Philadelphia, PA. Alongside advocating for proper care for all, Hanna has worked with children both professionally as a pediatric physician and as one of the most important positions in the world: being a mom. She's been with the US Department of Health and Human Services for almost two decades serving the public.
What is a lesson you've learned throughout your career?
One of the biggest lessons I've learned in my career is how I am at my best when I am passionate about my work. Over the years I've been able to recognize and hone my professional talents, and I have been fortunate to be offered jobs that would have given me more exposure or maybe even a prestigious title. But they would have taken me away from the things I'm passionate about. When I bring my love to my work it brings out the best in me and the final product.
What are your thoughts on work-life balance?
"Work-life balance" is a popular phrase right now, and in theory it holds some valuable principles. Personally, it's been unrealistic to my own life – I believe how we balance things out is based on what we prioritize when they arise. I've made some personal and professional decisions in my life that ensure my priorities are valued and aligned.
For example, as a physician I could have been in a private practice or working in another field that would be more lucrative. The money was never my top priority. For me, being on a fourth-grade field trip or being able to pick up my children from school on a Thursday afternoon aligns with my values. When I was breastfeeding, I didn't commit to traveling beyond where I could drive. And I don't regret it at all because I cherished that season of my life. It's not about "balance," but more so recognizing what requires my attention at any point in time and handling it the best way I can. I've always done my best to stay true to those values.
What challenges have you overcome?
I am not sure there is anyone who lives and breathes who has not experienced any hardship.  I have experienced some significant challenges that I thought would completely derail the plans I had for my life and my career.  However, I found out that the challenges gave me an opportunity to learn more about myself. I can refer to those obstacles and what I learned to help me in future challenges.  If I don't learn something, I feel as though I will have missed out on something really important in my life. I recognize some things are easier to move through than others, but I rely on my faith, my loved ones and friends to help me get through those tough times.
Who inspires you?
Marian Wright Edelman, founder and president emerita of the Children's Defense Fund (CDF), is my "Shero."  She has been an advocate for disadvantaged Americans her entire professional life. Under her leadership, the CDF is one of the nation's strongest voices for children and families. The Children's Defense Fund focuses on giving every child a healthy start, a head start, a fair start, a safe start and a moral start in life and successful passage to adulthood with the help of caring families and communities.
Edelman is a graduate of my alma mater, Spelman College, and is a graduate of Yale Law School. She is a mother, wife, and grandmother. She embodies what I strive to do in my life. While raising children and holding together a marriage, she has made an indelible mark that cannot be erased. I had such an honor of meeting her. I hope at one point in my life to work for her or with her.  It has not happened YET, but I'm holding out hope that she will not fully retire until I am able to do so!
What does it mean to be a Smart Mom?
Being a Smart Mom means bringing the fullness to who I am as a woman, daughter, relative, friend and professional to my role as a mother. I leverage every skill that makes me good in other areas of my life to being the best mom I can be. Also recognizing even in doing in my very best, I known I am not perfect at everything.
I can't be a good mother without a community of people who support me. I've come to understand if I don't take care of myself, then I am not able to be my best self to my family.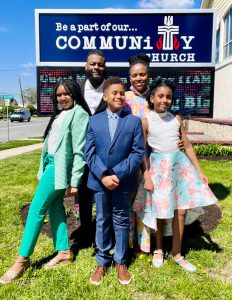 Advice for Smart Moms?
Identify what you're passionate about and align it with your skills. Understanding the "why" of what you do will keep you centered and motivated – even on the hard days. Be clear on your motivations for why you are pursuing a particular career path. Once you know where you're going, you can make decisions that align with your purpose.
Whether it's with colleagues, family or community, Smart Moms like Monique show us that sticking to your goals and values helps us lead a fulfilling life. Thank you, Monique, for sharing your story with us!
Looking for a work tribe for guidance and wisdom? Seeking advice on balancing work and family duties, or looking to make a professional shift that's best for your needs? Check out our coaching options to level up your career.
Searching for a Smart Mom to be a part of your team? Scroll through our recruiting services and schedule a discovery call with Garla today.